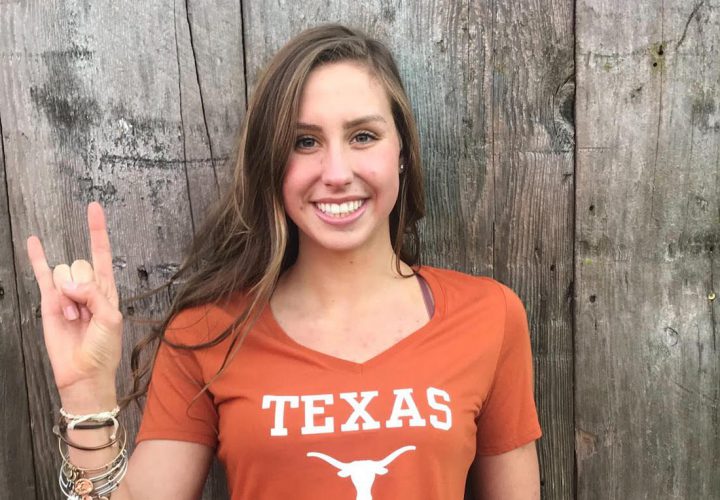 Photo Courtesy: Miranda Heckman
Agon is the proud sponsor of all high school coverage (recruiting, results, state championships, etc.) on SwimmingWorld.com. For more information about Agon, visit their website AgonSwim.com.

To report a college commitment, email HS@swimmingworld.com.
Join Swimming World's Watch List
NEW COMMIT: Miranda Heckman, one of the top swimmers in the class of 2019, has announced her verbal commitment to the University of Texas' Class of 2023. Heckman is from Livermore, California. The freestyler swims for Pleasanton Seahawks and is a junior at Granada High School.
Her best times are (SCY/LCM):
1650 Free 16:28.51/ 1500 Free 16:57.01
1000 Free 9:50.10/ 800 Free 8:42.29
500 Free 4:41.53/ 400 Free 4:13.11
200 Free 1:46.79/ 2:00.73
100 Free 50.23/ 56.64
400 IM 4:15.91/ 4:54.82
As a sophomore at last year's California High School swimming state championships Heckman won the 200 freestyle in a 1:47.21 and the 500 freestyle in a 4:45.28.
Last summer Heckman was on the United States' FINA World Juniors squad. There Heckman finished as high as fourth place on the 800 freestyle relay. Heckman will bring plenty of experience with her to Austin. This fall she was a part of the Team USA contingent that traveled to the Beijing stop of the FINA World Cup.
Later this month the Longhorns will bring nine women to the NCAA Championships. Freshman Genevieve Pfeifer and junior Joanna Evans are the team's only entries in the 500 and 1650. With nearly two years to go until her first Big 12 Championships, Heckman's best in the 500 free is already only a second shy of what it took to make NCAAs this year (4:40.50). She'll overlap with Pfeier for two years.
Heckman said of her decision,
"It is with great pride and excitement that I have the privilege of announcing my verbal commitment to swim for the University of Texas Class of 2023. I chose the Longhorns because of the outstanding coaching staff, the amazing facilities and my instant bond with the team. I believe they will help me achieve the success I strive for both academically and athletically. I would like to thank my family, friends and coaches for supporting me throughout this process. Hook 'em!"
(function(d, s, id) {
var js, fjs = d.getElementsByTagName(s)[0];
if (d.getElementById(id)) return;
js = d.createElement(s); js.id = id;
js.src = "http://connect.facebook.net/en_US/sdk.js#xfbml=1&appId=143146488436&version=v2.0";
fjs.parentNode.insertBefore(js, fjs);
}(document, 'script', 'facebook-jssdk'));

Source link