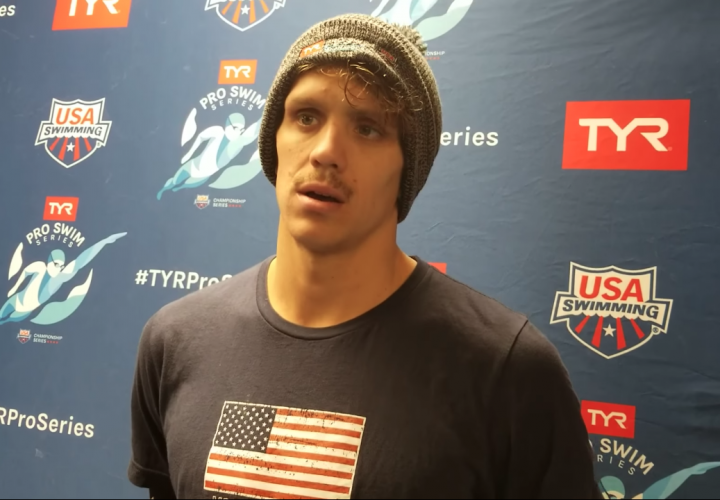 Shields swam just his second meet after being injured last year. Shields came to Indianapolis with a 53.08 in the 100 fly on Thursday night, good for second overall behind Gunnar Bentz.
Shields also talked about how his training has been this past year at Cal as well as how he has experimented with different training styles, including going to the distance group to get more prepared for his 200 fly.
Shields continued to talk about certain sets that have helped him as well as what he expected to do this weekend in Indianapolis.
Watch the full interview below:
[youtube https://www.youtube.com/watch?v=skc99qFfihw?version=3&rel=1&fs=1&autohide=2&showsearch=0&showinfo=1&iv_load_policy=1&wmode=transparent&w=640&h=390]
Watch more video interviews from TYR Pro Swim Series in Indianapolis here.
(function(d, s, id) {
var js, fjs = d.getElementsByTagName(s)[0];
if (d.getElementById(id)) return;
js = d.createElement(s); js.id = id;
js.src = "http://connect.facebook.net/en_US/sdk.js#xfbml=1&appId=143146488436&version=v2.0";
fjs.parentNode.insertBefore(js, fjs);
}(document, 'script', 'facebook-jssdk'));
setTimeout( function () {
!function(f,b,e,v,n,t,s){if(f.fbq)return;n=f.fbq=function(){n.callMethod?
n.callMethod.apply(n,arguments):n.queue.push(arguments)};if(!f._fbq)f._fbq=n;
n.push=n;n.loaded=!0;n.version='2.0′;n.queue=[];t=b.createElement(e);t.async=!0;
t.src=v;s=b.getElementsByTagName(e)[0];s.parentNode.insertBefore(t,s)}(window,
document,'script','https://connect.facebook.net/en_US/fbevents.js');
// init
window.fbq('init', '1559625860956413');
// track
window.fbq('track', 'ViewContent', {
category: 'partner',
subcategory: 'swimworld',
domain_name: location.host,
});
window.fbq('track', 'PageView');
}, 2000);