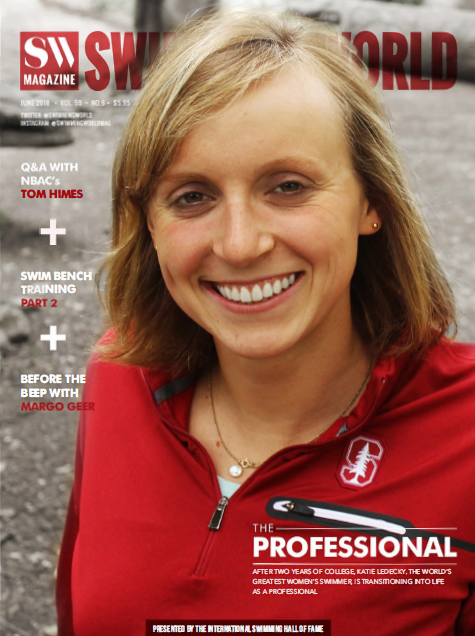 Photo Courtesy: Peter H. Bick
Before the Beep with Margo Geer
Margo Geer was done with swimming after the 2016 Olympic Trials. She entered the meet a serious contender in the 50 and 100 meter freestyle, but the meet proved to be lackluster and unenjoyable for Geer. She had been battling a shoulder injury, but she refused to let that be an excuse. Her times at Trials didn't match those from mid-season meets. She was off her game. And the meet soured swimming for her.
Following her return to swimming, Geer has focused on maintaining a positive attitude throughout the entirety of the meet, beginning with how she thinks and acts while at the hotel. While she arrives at the pool approximately an hour and a half before a session is set to start, Geer never dives right into her warm-up. She allots about 30 minutes to "settling in." She will chat with swim friends and stay loose before getting into her dynamic warm-up on the pool deck.
After warm-up, "My mindset is, 'OK, you're ready to go'." She stops to reiterate this. "It's so important that even if you don't feel ready to go, you say you're ready to go."
To learn more about Geer and her pre-race strategies, check out the June 2018 issue of Swimming World Magazine, available now!

[PHOTO COURTESY: THE LEDECKY FAMILY]
New! 1-Year Digital Only Subscription for just $29.95 Order Now!
Take a look inside Swimming World's June 2018 issue:
[youtube https://www.youtube.com/watch?v=Qw5VIKtsOMU]
FEATURES 
016 PLENTY AT STAKE 
by David Rieder 
Although the Americans will not be facing all of the world's best swimmers this year as they do during an Olympic or World Championship year, so much is on the line at this summer's Pan Pacific Championships— including U.S. team selection for the 2019 international meets. 
020 BOOM TIMES
by Michael Randazzo 
USA Water Polo is expanding…but it is not without its share of growing pains. 
023 LONG SWIM THE QUEEN 
by Bruce Wigo 
Queen Elizabeth II, now 92, used to be quite the swimmer. Those who saw her swim described her as a "very strong and graceful swimmer," and she inspired many other children in the British Empire to follow her good example. 
024 MENTAL PREP: BEFORE THE BEEP WITH MARGO GEER 
by Annie Grevers 
026 THE NEXT CHAPTER 
by Annie Grevers 
After two years of college at Stanford University and two NCAA team championships—and with two years remaining before the 2020 Olympics— Katie Ledecky, the world's greatest women's swimmer, is transitioning into life as a professional swimmer. 
030 NUTRITION: AROUND THE TABLE WITH LIA NEAL 
by Annie Grevers and Dawn Weatherwax 
COACHING
010 LESSONS WITH THE LEGENDS: JACK SIMON 
by Michael J. Stott 
014 STAYING FOCUSED 
by Rod Havriluk 
Swimmers who want to swim faster must continually focus on technique. However, even those with the best intentions face many obstacles to maintaining focus throughout a team training session. This article suggests strategies that can help. 
032 SWIM BENCHES: THE COACHES' FRIEND 
by Michael J. Stott
This installment is the second in a multi-part series in which Swimming World explores the role of swim benches in dedicated training. 
039 SPECIAL SETS: REACH FOR THE (BIG) SKY! 
by Michael J. Stott
Great things are happening in Big Sky Country. In December, Montana's Ethan Harder and Katharine Berkoff became the state's first-ever junior national swimming champions. 
042 Q&A WITH COACH TOM HIMES 
by Michael J. Stott 
043 HOW THEY TRAIN BETH BOTSFORD 
by Michael J. Stott 
TRAINING
038 DRYSIDE TRAINING: FIT AND FAST FOR SUMMER 
by J.R. Rosania 
JUNIOR SWIMMER
035 GOLDMINDS: MAIN SET RESET 
by Wayne Goldsmith 
Over the past few years, there has been a big change in swimming coaching—and more specifically, a revolution in the way main sets are being completed. 
045 UP & COMERS: DAWSON JOYCE 
by Taylor Brien 
COLUMNS 
008 A VOICE FOR THE SPORT 
013 BEYOND THE YARDS 
046 GUTTER TALK 
048 PARTING SHOT 
(function(d, s, id) {
var js, fjs = d.getElementsByTagName(s)[0];
if (d.getElementById(id)) return;
js = d.createElement(s); js.id = id;
js.src = "http://connect.facebook.net/en_US/sdk.js#xfbml=1&appId=143146488436&version=v2.0";
fjs.parentNode.insertBefore(js, fjs);
}(document, 'script', 'facebook-jssdk'));

Source link