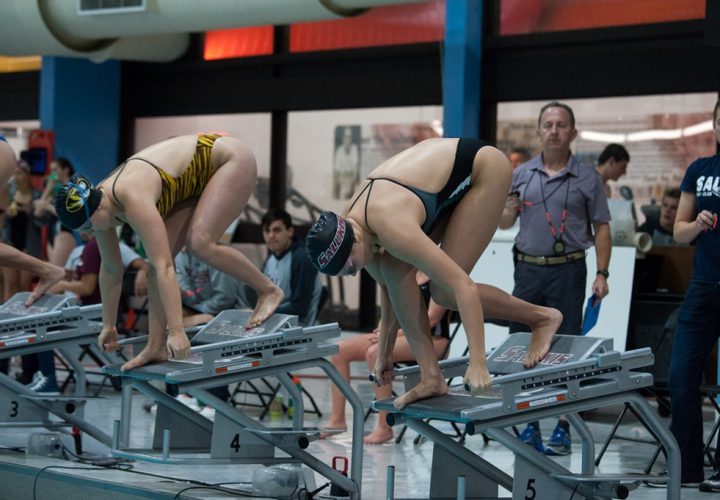 Photo Courtesy: Tony McDaniel/Southern Illinois Athletics
Southern Illinois University women's swimmer Bryn Handley was one of four student-athletes to win a 2018 Missouri Valley Conference postgraduate scholarship as announced by Commissioner Doug Elgin on Tuesday.
The MVC's Faculty Athletics Representatives Committee voted to award postgraduate scholarships to the four student-athletes, due to their exemplary academic and athletic performances. Each will receive a $5,000 postgraduate scholarship from the Conference. The other recipients were Madison Glennie of Drake (women's golf), Lily Johnson of Missouri State (women's volleyball) and Jaime Murtagh of Indiana State (men's track and field).
A native of Louisville, Kentucky, Handley earned a perfect 4.0 GPA at SIU and graduated summa cum laude with a degree in Behavior Analysis and Therapy. A three-time MVC Elite 17 Award winner, she was named Academic All-American by the College Swimming Coaches Association of America in 2017. On May 18, she was also awarded the prestigious NCAA Postgraduate Scholarship in the amount of $7,500 for use in an accredited graduate program.
Handley was one of the program's top distance swimmers, earning All-MVC honors three times and winning the 5k CSCAA Open Water National Championship in 2017. She also placed eighth in the 1,650 meter freestyle at the USA Swimming Winter Nationals. Her remarkable career included winning MVC Swimmer of the Week honors a dozen times.
She has accepted a position in the University of Kentucky Applied Behavior Analysis graduate program this fall and plans to be a board-certified behavioral therapist in a K-12 school district, specializing in helping children with developmental and behavioral disorders.
To be eligible for consideration, recipients must have achieved a cumulative grade-point average of at least 3.40, participated with distinction in a Missouri Valley Conference championship sport for at least two seasons at the nominating institution and must graduate from their institutions within 18 months following selection at the spring meetings of the Faculty Athletics Representative Committee.
Also, the recipients must be accepted for postgraduate studies at an institution of higher learning at the time of receipt of the scholarship, and the recipients must have completed eligibility for participation in intercollegiate athletics in the academic year in which nominated.
The above press release was posted by Swimming World in conjunction with Southern Illinois Swimming and Diving. For press releases and advertising inquiries please contact Advertising@SwimmingWorld.com.
(function(d, s, id) {
var js, fjs = d.getElementsByTagName(s)[0];
if (d.getElementById(id)) return;
js = d.createElement(s); js.id = id;
js.src = "http://connect.facebook.net/en_US/sdk.js#xfbml=1&appId=143146488436&version=v2.0";
fjs.parentNode.insertBefore(js, fjs);
}(document, 'script', 'facebook-jssdk'));

Source link