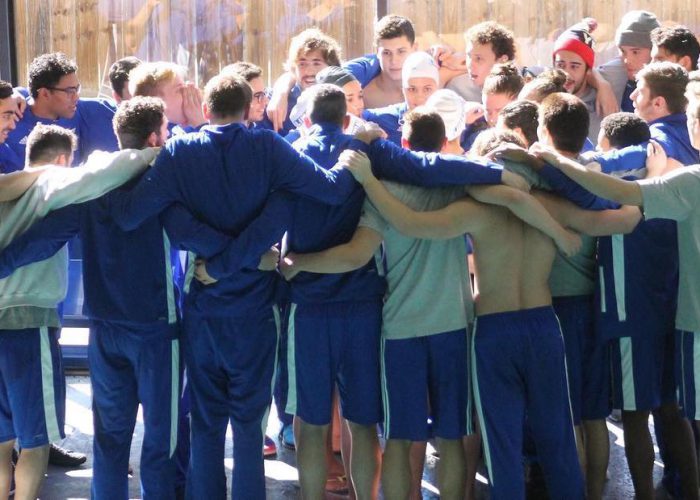 Photo Courtesy: Erich Schlegel/USA Today Sports Images
By Daniela Navarrete, Swimming World College Intern.
International college swimmers beware; are you trying to pursue the "American Swimming Dream"? Here's a fair warning – college athletic programs can get cut unexpectedly.
While most international students choose to attend school in the U.S. due to increased athletic and academic opportunities, many do not consider the possibility of those opportunities being taken away.
During 2017, two universities cut their swimming programs: the University of Buffalo cut the men's team, and Wright State University cut both men's and women's teams. Earlier this year, Eastern Michigan University announced the discontinuation of men's swimming for next season. On April 25th, just two weeks before the semester ended, Limestone College  announced that it was cutting the swim program starting the 2018 season.
Limestone College's Case
Limestone swimming has excelled at both conference and national levels, scoring at the NCAA Division II Championships eight times on the men's side and seven times on the women's. In addition, they boast more than 145 All-American honors in total.
Another special feature about the Limestone swim program is that it's famous for having a wide diversity of international swimmers. Just this past season, 69% of the team was foreign.
Issues Faced by Non-U.S. Athletes
International student-athletes choose to go to the United States because of the collegiate system that allows people to practice a sport according to their level while studying the major of their choice. Back in most of their home countries, the opportunities to attend college while swimming competitively are limited due to the lack of institutional support given to sports (depending on the country).
Although international and domestic swimmers go through almost the same recruiting and admissions process, foreigners must file extra paperwork, which takes several months to be issued and incurs additional expenses to be able to live the "American Swimming Dream."
Most internationals go to the United States to pursue athletic goals at the same time they are getting high quality education. However, the truth is that not all of them have a large budget to rely on. Most depend on a combination of athletic and academic scholarships to afford the best suitable program.
In Need of Regulation
Colleges and universities are like any other businesses in which numbers are crucial to their productivity. Maybe swimming was not giving the institutions the expected revenue, yet some of the athletic departments did not take into account how critical it is for the athletes to be informed in a timely manner.
For example, Wright State University notified its student-athletes a year in advance before shutting down the program. In that way, swimmers could figure out if they wanted to transfer to continue swimming or stay at the institution for their studies. In contrast, Limestone College informed the team during the grind of finals week with two weeks of classes left.
Now, as the recruiting period for the upcoming fall semester is practically over, it will be difficult for Limestone swimmers – especially for internationals – to find a school that fits their budget and goals. Most schools have strict deadlines for transfer academic applications and have been closed since March or the beginning of April.
It was a long journey for international students to get to the United States, and now it will be difficult to find an adequate institution in which to transfer with such a brief time-frame.
To respect the effort of all these young athletes, the NCAA should have rules to regulate the timing in which an academic institution announces the cut of any athletic program. Athletes must be informed before the recruiting signing period concludes or within a semester or a year in advance, depending on how serious the situation.
An international swimmer's goal is to live the "American Swimming Dream," yet they should be aware that a program can get cut at any given time.
All commentaries are the opinion of the author and do not necessarily reflect the views of Swimming World Magazine nor its staff.
(function(d, s, id) {
var js, fjs = d.getElementsByTagName(s)[0];
if (d.getElementById(id)) return;
js = d.createElement(s); js.id = id;
js.src = "http://connect.facebook.net/en_US/sdk.js#xfbml=1&appId=143146488436&version=v2.0";
fjs.parentNode.insertBefore(js, fjs);
}(document, 'script', 'facebook-jssdk'));
setTimeout( function () {
!function(f,b,e,v,n,t,s){if(f.fbq)return;n=f.fbq=function(){n.callMethod?
n.callMethod.apply(n,arguments):n.queue.push(arguments)};if(!f._fbq)f._fbq=n;
n.push=n;n.loaded=!0;n.version='2.0′;n.queue=[];t=b.createElement(e);t.async=!0;
t.src=v;s=b.getElementsByTagName(e)[0];s.parentNode.insertBefore(t,s)}(window,
document,'script','https://connect.facebook.net/en_US/fbevents.js');
// init
window.fbq('init', '1559625860956413');
// track
window.fbq('track', 'ViewContent', {
category: 'partner',
subcategory: 'swimworld',
domain_name: location.host,
});
window.fbq('track', 'PageView');
}, 2000);