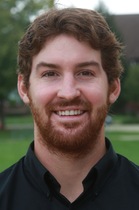 Photo Courtesy: Kayla Riemensperger
By Kayla Riemensperger, Swimming World College Intern.
Every great team has a strong coaching staff to set the example. While the head coach directs the focus of the season, the assistant coaches typically get to know the ins and outs of each individual swimmer on a different level. Assistants can have a profound impact on the overall team morale, and that's just what Jim LaFave did for Depauw University's women's swim and dive team.
Lafave has finally handed in his stopwatch in hopes of moving up in the world of college coaching. Serving as the assistant coach to head coach Shea Davisson for the past two years, he is leaving the team behind with new traditions to carry out in the years to come. His fellow athletes lovingly called him "Lil Dicky" due to his resemblance to the famous American rapper, and he will be forever remembered for his epic freestyle rap during the team's training trip in 2018. And finally, Lafave will go down in DePauw University history for his famous "three-piece nugget" pep talk before the big Washington University swim meet in 2016. As you can see, assistant coaches leave a mark in their own quirky ways.
Lafave hopes to build up the next wave of swim coaches by sharing his own process and experience.
The Beginnings of A Coach
Lafave remembers himself as "always having roots in the pool," because it was always fun and "full of many social opportunities." To try out for the swim team, Lafave was required to swim one length of the pool without touching the bottom or lane lines. He was able to pass the test "without much difficulty" and surprised the coaches with his athleticism at only six years old.
Using his competitive nature, Lafave continued to win events at invitationals and the state meet for his club. He admits that it was this success that got him hooked on swimming; however, he was also inspired by his own coaches at a young age.
His first coach at Forest Hills, Karl Hodgson, would turn on the radio during practices and blast classic rock while playing air guitar. Lafave remembers thinking, "dang – all these older people are so cool. I want to be like them one day." This inspiration from Karl put Lafave on the track of becoming a swim coach.
Taking the First Step
Lafave recalls that he knew he would pursue coaching as early as high school: "When you're in high school, that's the time people start asking what you want to do with your life. Even though it's early, you have those thoughts. I definitely had friends who wanted to go the engineering and the business route. And I remember sitting there thinking, 'I'm not interested in anything besides swimming. I like to have fun with my friends and I like to swim.' Those were the two things. So that made me think that must mean I need to be a swim coach!"
With that thought, Lafave went on to graduate from Grand Valley State University with a major in exercise science. After graduation came his first coaching job at Forest Hills, the place where his swimming career all began. He coached there for the next five summers while also coaching for his own high school's men's team until accepting the position as assistant coach for the women's team at DePauw University.
Landing the Job
Lafave found the position at DePauw University in early August after the high school coaching season ended – the moment when he realized that he didn't have a plan for what to do next. "Here I was on a Monday, unemployed. I felt pathetic and debated about becoming a personal trainer. But then I was on Swimswam's job section and saw an online posting and filled it out."
After filling out the application, Lafave was contacted by the recently-hired head coach, Davisson, who invited him to campus for a formal interview and to meet the women's team and athletic staff. He was hired immediately afterward.
Lafave connected with his athletes right away. Mary Woods, a junior, recalls Jim as a coach who made her a better athlete and a better person: "I owe many of my successes from the past two years to him – he was a phenomenal assistant coach." Freshman Alison Tallen recalls him as being invested in the betterment of the team with new training tricks: "It was inspiring to have a coach who not only cared for the sport but also for his team. He was good at motivating us before races and pushing us through the toughest of practices."
Developing a Coaching Style
When asked the most important skills he has developed to become a successful coach, Lafave cites his intense love for the sport and getting to know people on a real level: "I have always made an effort to get to know all athletes personally to build a trusting relationship with them. I also know what it's like to grind hard from my days as a swimmer and always wanting to improve so badly."
Lafave believes that no coach is perfect and can always build new skills. "Before DePauw, I had never coached a women's team. In fact, I had never coached any female over the age of 12. So that was something I had to adjust to very quickly," he reflects.
"I also realized that I needed to be more of a leader. My first year at DePauw, I was still a little timid. It's a much different experience when coaching college-age athletes. You have to be a leader rather than a friend," he says.

Working with a women's team, Lafave was exposed to the tears and breakdowns that come with the job. He recalls that mental breakdowns, especially at big meets, was one thing that he did not expect: "Athletes were studs in practice but then freaked out at meets. From that, I learned there is a huge difference between practice and competition. It taught me what it takes to bridge the gap between the two." 
Leaving a Legacy
Assistant coaches often don't get the limelight. They take care of details others might not think to notice, such as the following: setting up meals, hotels, travel, recruiting, writing sets and the weightlifting workouts. But the grunt work always pays off in the end.

Lafave's biggest take away from the job was this: "My first year at DePauw confirmed the idea that the more you put in the more you get out. I have never been more fulfilled with a team or myself."
He would certainly recommend this job to new coaches for many reasons, two of which are gaining recruiting experience and writing workouts. "A lot of assistant coaches don't get to do recruiting, which was a huge skill that I learned from the job. I also gained a lot of experience in writing sets, because I was able to write workouts consistently for the same group."
Lafave may not believe that he is leaving behind a legacy, but he does hope that he was able to build a culture of trust and an environment for people to be themselves. In the future, Lafave hopes to see more traditions and more confidence from the women's team. The "golden stopwatch" is a favorite tradition he started by awarding a golden stop watch to the athlete who performed the best during a "test set."
Lafave's parting words to swimmers and coaches alike are the following: "Keep prioritizing effort. The number one priority is giving hard, honest effort every day, and don't sell yourself short on expectations."
The DePauw University women's swimming and diving team also has parting words for Lafave: "We all wish you the best, Jim. You will be missed!"
All commentaries are the opinion of the author and do not necessarily reflect the views of Swimming World Magazine nor its staff.
(function(d, s, id) {
var js, fjs = d.getElementsByTagName(s)[0];
if (d.getElementById(id)) return;
js = d.createElement(s); js.id = id;
js.src = "http://connect.facebook.net/en_US/sdk.js#xfbml=1&appId=143146488436&version=v2.0";
fjs.parentNode.insertBefore(js, fjs);
}(document, 'script', 'facebook-jssdk'));
setTimeout( function () {
!function(f,b,e,v,n,t,s){if(f.fbq)return;n=f.fbq=function(){n.callMethod?
n.callMethod.apply(n,arguments):n.queue.push(arguments)};if(!f._fbq)f._fbq=n;
n.push=n;n.loaded=!0;n.version='2.0′;n.queue=[];t=b.createElement(e);t.async=!0;
t.src=v;s=b.getElementsByTagName(e)[0];s.parentNode.insertBefore(t,s)}(window,
document,'script','https://connect.facebook.net/en_US/fbevents.js');
// init
window.fbq('init', '1559625860956413');
// track
window.fbq('track', 'ViewContent', {
category: 'partner',
subcategory: 'swimworld',
domain_name: location.host,
});
window.fbq('track', 'PageView');
}, 2000);