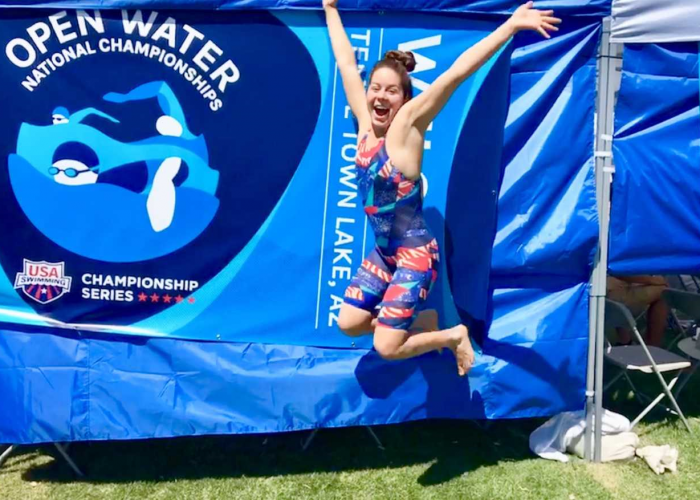 Photo Courtesy: Eric Seals
By Bailey Duran, Swimming World College Intern
This past weekend, the USA Swimming Open Water Nationals took place at Tempe Town Lake in Tempe, Ariz. The meet began Friday, May 4, and went through Sunday, May 6. Many of the swimmers who competed were veterans at open water swimming, but there were also some newcomers taking a shot at it. One of these newcomers was seventeen-year-old Haley Benjamin.
Benjamin is a senior at Durango High School in Durango, Colorado, and is a part of the Durango Swim Club. Benjamin has been swimming for six and a half years and has many accomplishments under her belt, including a win in the 1650m freestyle at Future's Championships, a few trips to Nationals and Olympic Trial qualifying times. Benjamin has signed her intent to swim for the University of Houston beginning in fall 2018.
Benjamin has raced open water only one other time, but it was not as competitive as this meet. The race was six laps, with each lap being a mile long. Swimmers could get food and water from their coach as well as some quick feedback before taking off again.
"This was a huge jump since I was competing with professionals and other girls on national teams," Benjamin said. "There's waves, other people hitting you, wind, and a ton of other things happening at once. It's not a controlled environment like a pool is."
Benjamin's races are usually 5-16 minutes long, so swimming non-stop for over two hours was a very different experience. Benjamin said that she learned the hard way that she should duct-tape her cap and goggles on so they don't fall off during the race, and she wasn't sure what to do when the other girls were fighting and bumping into her.
However, she said it was a great experience overall and will "no doubt do this again." Benjamin's coach Alex Martinek said that no matter a swimmer's level of fitness, open water swimming can be a great challenge as it is vastly different from racing in a pool. A lot of strategy has to go into the race.
Before the start of the race, swimmers get tattooed with numbers on their shoulders, backs and hands, and had their fingernails checked to make sure they couldn't scratch anyone. This was something that Benjamin had never done before: "Since this was completely new for me, I learned not to put as much expectation on myself as I might normally do. In a pool, you know your best times, how to swim the race, and you generally know what to expect. But here it was different. The environment wasn't as controlled as a swim meet, the course is new for everyone and anything can happen."
Coach Martinek says that next time, he'll train Benjamin by having her swim four-abreast to get used to being bumped and swimming closer to people. "I hope she continues to do open water – I think she'll be great at it. she just needs more experience," Martinek says.
Benjamin also agrees that this was an awesome experience and plans on swimming more open water events. "Next time, I'd know how to deal with this environment because I realized I deserved to be there just as much as anyone else. We all qualified the same way. We all put in the work, but some just know how to execute better than others [due to experience.]"
Benjamin swam the women's 10K (6.2 miles) on Friday and placed 18th with a time of 2 hours and 3 minutes.
Women's Results
The champion of the women's 10K was veteran open water swimmer Ashley Twichell. Twichell won by 17 seconds with a time of 1:52:12.105 to qualify for the 10K at the Pan Pacific Games. This is the fourth time that Twichell has won the National Open Water Championships. Winners and runners up are automatically qualified to swim at the Pan Pac Games.
Second-place finisher Haley Anderson finished with a time of 1:52:29.617 and qualified for the Pan Pacific Games. This will be Anderson's third trip to these games, as she won the Pan Pac's in 2014. Fourteen-year-old Mariah Denigan took out the pack in a good lead for the first 5K of the 10K before being overcome by Twitchell and Anderson in the fourth lap.
Men's Results
The victor of the men's 10K was Jordan Wilimovsky. Wilimovsky won with 13 seconds to spare with a time of 1:47:14.718, walking away with his third Open Water National title. This will be his second time swimming at the Pan Pacific Games, where he placed 16th in 2014.
Second place finisher David Heron out-touched Michael Brinegar by less than half a second to claim his spot on the Pan Pacific team. The two men's times were nearly identical at 1:47:27.713 and 1:47:27.779 respectively. The men's and women's U.S. Pan Pacific Teams each have two more spots, and the swimmers will be determined at the 2018 French National Championships in Gravelines, France on May 31, 2018.
(function(d, s, id) {
var js, fjs = d.getElementsByTagName(s)[0];
if (d.getElementById(id)) return;
js = d.createElement(s); js.id = id;
js.src = "http://connect.facebook.net/en_US/sdk.js#xfbml=1&appId=143146488436&version=v2.0";
fjs.parentNode.insertBefore(js, fjs);
}(document, 'script', 'facebook-jssdk'));
setTimeout( function () {
!function(f,b,e,v,n,t,s){if(f.fbq)return;n=f.fbq=function(){n.callMethod?
n.callMethod.apply(n,arguments):n.queue.push(arguments)};if(!f._fbq)f._fbq=n;
n.push=n;n.loaded=!0;n.version='2.0′;n.queue=[];t=b.createElement(e);t.async=!0;
t.src=v;s=b.getElementsByTagName(e)[0];s.parentNode.insertBefore(t,s)}(window,
document,'script','https://connect.facebook.net/en_US/fbevents.js');
// init
window.fbq('init', '1559625860956413');
// track
window.fbq('track', 'ViewContent', {
category: 'partner',
subcategory: 'swimworld',
domain_name: location.host,
});
window.fbq('track', 'PageView');
}, 2000);