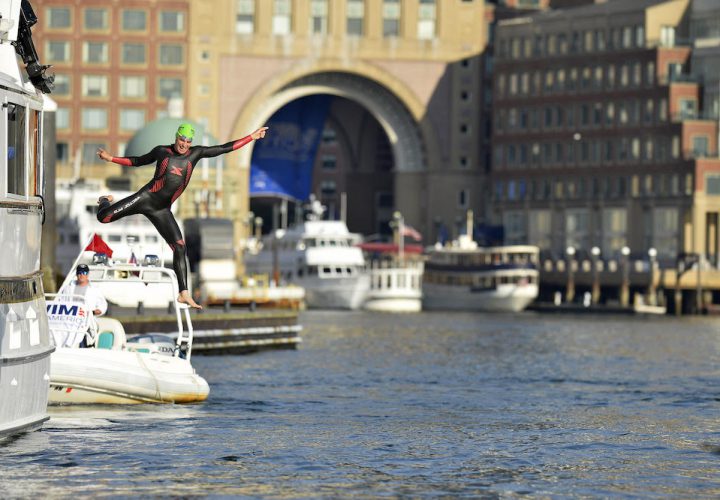 A swimmer jumps off the boat "Timeless" and into the harbor during the 2018 Swim Across America Boston Harbor open water swim on Friday July 13, 2018. Photo by Joseph Salvatore Prezioso Photo Courtesy: Joseph Prezioso
The Boston Harbor has had its share of interesting traffic, from Revolutionary War boats to tea being dumped into the water by American colonists led by the Sons of Liberty.
On Friday, there was some more unique traffic as seven Olympians and 68 total swimmers made their way through the Boston Harbor for a good cause.
The 22-mile, open water relay-style event, led by Swim Across America, raised money for the Dana-Farber Cancer Institute and Massachusetts General Hospital for Children.
The race started on the docks at Rowes Wharf near the Boston Harbor Hotel, then finished back on the same side of the harbor.
Klete Keller and Erik Vendt participated in the event along with fellow Olympians Craig Beardsley, Doug Gjersten, Janel Jorgensen McArdle, Alex Meyer and Eric Wunderlich.
Each swimmer had to raise a minimum of $2,000 to participate, according to event staff. During the past 22 years, more than $2 million has been raised at this event.
This slideshow requires JavaScript.